You have this huge collection of favorite songs and funny cat videos on your smartphone that you now want to play via your brand-new home theater system. But how do you do it? How do you get your phone connected to your home theater? You've got all these cables and no idea where they go. Keep calm and continue reading this little guide.
There are basically three ways to connect your smartphone to a home theater system. There is: AUX, which means auxiliary, USB, and Bluetooth. First, let's quickly and briefly take a little look at what exactly a Home Theatre is.
What a Basic Home Theater Consists Of
Generally speaking, a home theater system is an effort to recreate the experience of watching a movie in a theater at home without the nuisance of someone talking on their phone or standing up in front of you just as the film reaches that awesome action point; a combination of electronic components can be used to do that. These components are AV devices or audio/video devices.
Simply put, these devices include a TV screen, a surround-sound system and a DVD or Blue Ray player. The player is the AV source, the TV is your AV display, and the surround-sound speakers are the audio output. These are the basic components of a home theater system. A very technical way to look at it.
It's About Sound
Home theater or home cinema is not just about a TV or a projector, it is more about sound. There are different sound systems used in a home theater. Dolby and DTS are the two basic standards used for encoding sound. Dolby is the name of the lab that developed the Dolby standard DTS stands for digital theater system. These are the standard specifications in use:
DTS
DTS HD High-resolution – 7.1ch maximum sound @ 6 Mbps
DTS Digital Surround – 5.1 maximum channel sound @ 1.5 Mbps
DTS HD Master Audio (lossless quality) – 7.1ch maximum sound @ 24.5 Mbps
Dolby
Dolby TrueHD (lossless quality available on Blu-Ray discs) – 7.1ch maximum sound @ 18 Mbps
Dolby Digital (common in DVDs) – this option gives you 5.1ch maximum sound @ 640 Kbps
Dolby Digital Plus (supported by online streaming services) – 7.1ch maximum sound @ 1.7 Mbps
And then there is Dolby ATMOS
The basic definition of Dolby ATMOS is a system where the speakers are placed above the audience.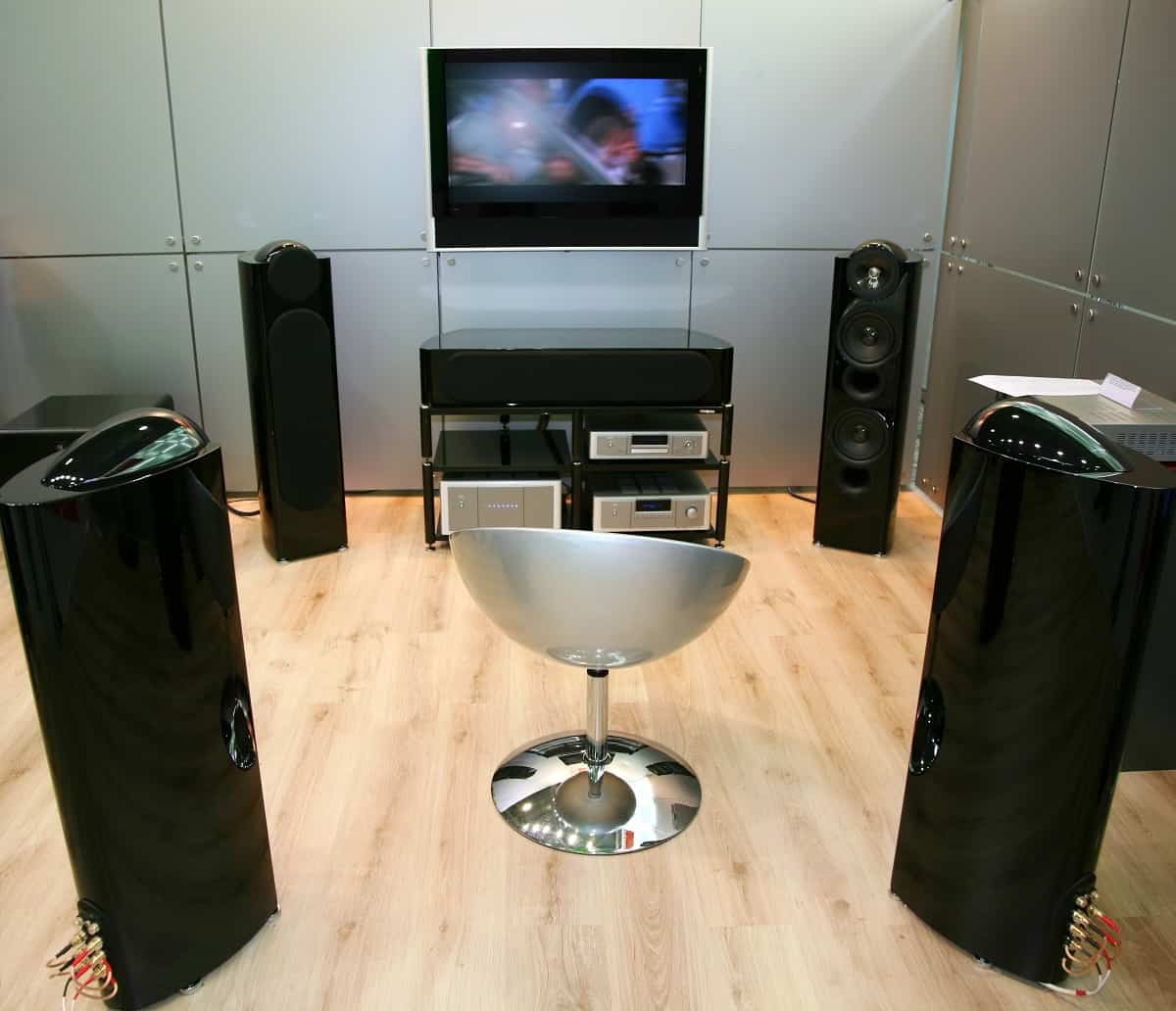 How Do You Connect?
Let's get back to connecting your cellphone to your home theater system. You have some options to play with here, and they're not too complicated.
Bluetooth Connection
If your theater system is Bluetooth enabled and your phone has Bluetooth, you can very simply connect them to each other via Bluetooth.
Turn on the Bluetooth feature on the home theater and then turn on the Bluetooth on your phone. Search, pair, and you are then done. Play music from your phone and party all night. Your neighbors will love it.
AUX Input
If your home theater system has aux in, just connect an aux cable from the system to your phone.
If your system doesn't have aux, it should have an RCA in. You will need to buy a stereo-to-RCA cable, and connect this RCA to your system and the stereo side of the cable to your smartphone. Use a "Stereo—2 RC" cable to connect with your smartphone.
Buy a 3.5mm Stereo Male to Dual RCA female adapter and connect to your mobile phone's 3.5mm jack.
Connect the RCA 3.55mm stereo cable to aux, video or other red /white plugs and the 3.55mm to your phone's earphone jack. This sounds more complicated than it is. Once you've done this once or twice, you'll be a pro, and you'll never have to read this guide ever again.
USB Input
If the system has a USB connector, you can easily use your cellphone's USB charger cable to connect to the home theater system.
However, if you are unlucky and your home theater system cannot work with Android or Apple phones, then you might be able to download an app that allows your home theater to 'talk' to the device when it is plugged in.
And voila!
If your home theater does not have any of the above-mentioned connection methods, you won't be able to connect your phone to your home theater, unfortunately.
Conclusion
It is suggested that before you buy your epic new home theater system, make sure that you can connect other small devices to your system via the three mentioned methods. Speak to the salesperson — if they can't help you, try talking to their tech people. Between them, they will be surely be able to work something out for you, their valued customer. After all, it is your money, and you want to buy what you need. There are, unfortunately, at this time, no other ways of connecting your cellphone to your home theater system, but the above should be more than sufficient. Happy listening!