If you have invested in a small surge protector, one of the models that looks like a little power strip which you can plug appliances into, you might be wondering just how well it can protect your devices, electronics, and appliances.
You probably got that surge protector so you can rest assured that power surges won't fry that brand new TV.
In most cases, a surge protector will work just fine. However, a small power surge that originates from the power company, the power grid, or from within your own home is a bit different than a lightning strike. So, does a surge protector protect against lightning?
Surge Protectors and Lightning Strikes
A very important thing to know is how much or how strong of a power surge your average surge protector can handle. Once again, here we are talking about the power strip-type surge protectors. These tend to be rated at about 15 amps, with some going a few amps higher than that. This should be enough for most basic power surges, but what about a lightning strike?
A direct lightning strike, on average, will come in at anywhere from 5,000 to 20,000 amps. However, extremely heavy lightning strikes have been known to register as high as a whopping 200,000 amps, so, you can do the math here.
In a worst case scenario, a surge protector rated for 15 amps, when hit with 200,000 amps of electricity, will still leave a massive 199,985 amps for your electronics to deal with. It doesn't take much to figure out that the result here is a fried and probably melted television.
A surge protector might be able to deal with smaller lightning strikes that hit many miles away from your home and hit the power grid. The reason they may be able to handle this is because by the time that lightning strike gets to your home, a lot of the amperage has already dissipated, but even then, an average surge protector may still not do the trick.
There are much better in-home surge protectors that feature disconnects which totally shut the power off. These can help add a bit more protection, but then again, a lightning bolt that traveled several miles probably won't be deterred by a couple inches of space which that disconnect provides.
Therefore, simply put, no, a surge protector won't do a single thing to stop that lightning strike from deep frying your television and anything else you have plugged in.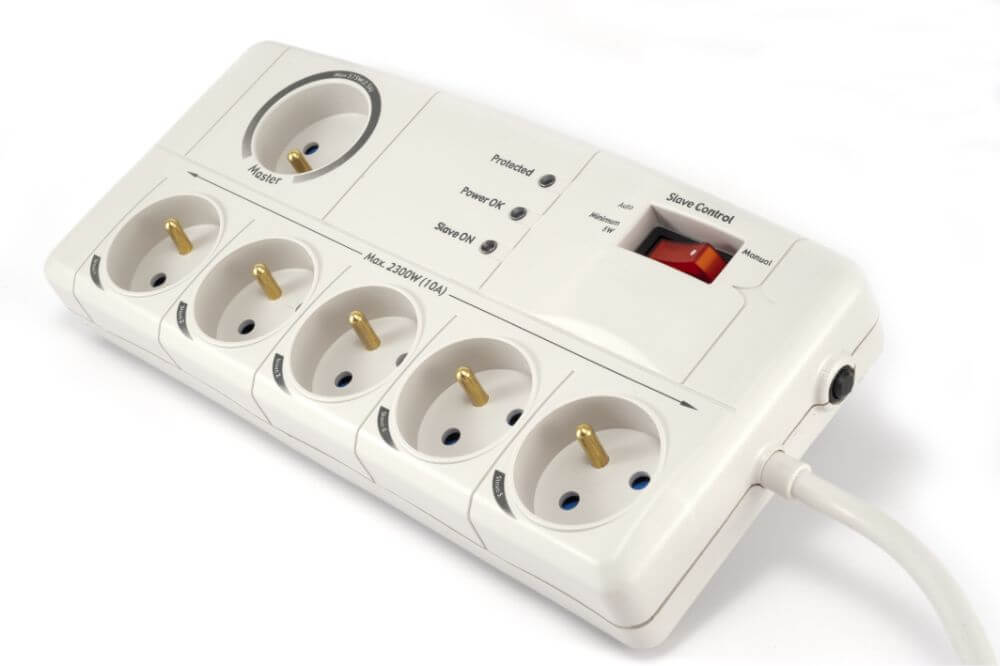 Protecting Your Electronics From Lightning
Although your basic surge protector won't do anything to stop the tremendous amperage which a lightning bolt produces, there are some steps you can take to help prevent your electronics from winding up in the trash can after a lightning storm.
Service Entry Surge Protectors
If you are still looking to get a surge protector to protect against massive energy surges, such as from lightning strikes, your best bet is to go for a service entry surge protector. These are installed before the circuit breaker in your home, thus protecting your whole home.
Now, these are not overly expensive to buy, but can be very costly to install. These kinds of surge protectors can handle many more amps than an in-home or power strip-type surge protector, potentially up to hundreds or even thousands of amps depending on the specific unit in question. That said, this still won't be enough to stop a direct lightning strike.
A Full Lightning Protection System
A full-fledged lightning protection system, one that consists of lightning rods, cables, and grounding, are your best bet to protect your electronics against full lightning strikes. These can divert virtually all of the amps which would otherwise hit your home head on.
Now, the best lightning protection systems can divert nearly 100% of the amps from your home, which should be enough to save your valuable electronics. However, these must be top-quality lightning protection systems, or else even these cannot guarantee total protection.
Unplug it All
Quite honestly, the best way to stop a lightning strike from frying your television is simply by unplugging it. Whatever it may be, in the vast majority of direct lighting strikes, there is nothing that can fully protect your home and its electronics 100%. The only way to really stop the current from ruining your valuables is to unplug them from any and all outlets.
Conclusion
The bottom line is that no, surge protectors will not protect against a lightning strike. Lightning is too powerful for even the best surge protectors to handle. Unfortunately, this is the way it is. Mother nature can be cruel, so while you can be prepared, being 100% protected in this sense is virtually impossible.